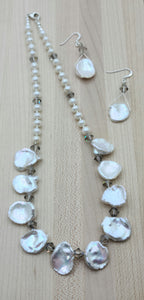 Drag mouse pointer over photo to magnify.
Lustrous aptly describes these freshwater keshi cornflake pearls!
The 'cornflakes' are separated by lovely crystals and finished off with freshwater 'plumpie' pearls & sterling silver.

You'll feel very special wearing this pearl jewelry set!
Necklace Length:  16"
1 3/4" fish hook earrings
 This is only sold as a set.
 * The 'creme de la creme' of manmade crystals, manufactured in Austria