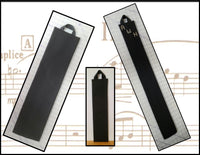 Anti-Tarnish Instrument Cozies
These cozies protect your instrument from both dings AND tarnish! They have a batting inner layer and are lined with professional tarnish preventive Silvercloth. They are available for piccolo, flute, oboe, and clarinet.
Click for Cozy Collection
Founded by designer Anna Marie Whitlock Henry, M'Lady Creations is a handcrafted jewelry brand that offers extraordinary pieces to celebrate your individuality and encourage you to play with your style. Committed to creating thoughtful jewelry that appeals to the uniqueness each woman should embrace in herself, Anna produces jewelry designs that span all styles, from classically elegant to fun and funky; many are even one-of-a-kind. By wearing remarkable yet accessible jewelry, you will enhance your internal beauty and proudly celebrate exactly who you are, no matter where you are in life. You'll always find something that's intentionally made and Anna-approved!