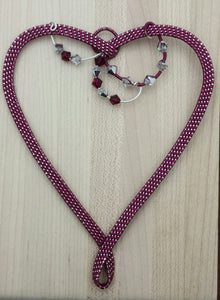 Drag mouse pointer over photo to magnify.
There are almost endless fascinating possibilities of weave patterns, shapes, sizes, and inclusions when sculpting with wire!
A lovely plated copper heart in magenta adorned with crystals* will look great on any wall!  Would also look great matted in a shadow box to match your decor!
Height:  5 1/2"  Width:  4 1/2"
 * the 'creme de la creme' of manmade crystals & pearls