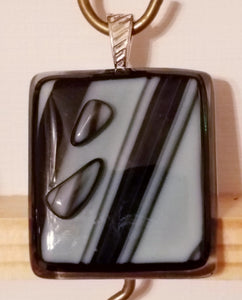 Drag mouse pointer over photo to magnify.
You need a unique look and black/white goes with ANYTHING.  Fused glass pendants are a simple, yet statement piece addition to your clothing.
Black & white striped glass with added dimension interest tack fused (NOT glued) to surface.
Pendant size (approx.): height X width (excludes bail):  1 1/2" X 1 3/8"

Silver Plated Bail.
Comes with a necklace cord.