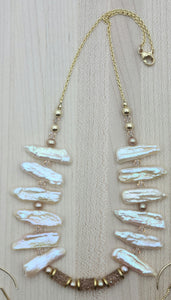 Drag mouse pointer over photo to magnify.
The color & luster of these biwa pearls is lovely - exactly like a tropical sunrise! The antique rose fine rock crystals tubes add lots of bling!
Freshwater biwa pearls, crystals*, gold fill
Necklace has a gold filled balloon clasp
Necklace Length:  17 1/4"
2" gold fill fish hook earrings
Pieces are priced separately, but there is a wee discount for purchasing the set!

 * The 'creme de la creme' of manmade crystals, manufactured in Austria